Easy-to-Use Canva Pinterest Templates
Proven to get clicks and give you fresh images within minutes, even if you're not a graphic designer.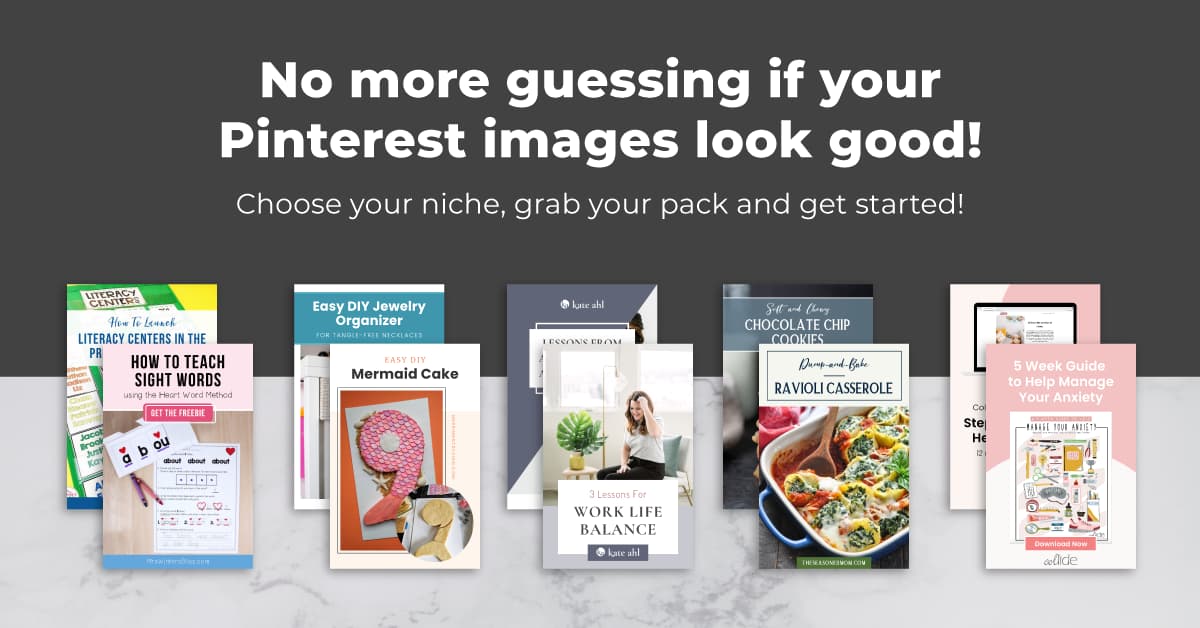 No more guessing!
Just insert your brand's style and POOF!
Watch the click magic happen.
---
These Canva Pinterest templates will get you the results you need.
Have you bought pin templates in the past, only to be disappointed that most of them didn't really work for your particular business?
These templates are carefully created, fully customizable and specific to each major niche. After working with and managing hundreds of clients Pinterest accounts, we know what works and what doesn't.
Don't waste your time testing out templates that "might" work for you, when you can use pre-tested template formats that have proven to work again and again for other businesses in your niche.
Plus the templates are easy-to-use. Just add your brand's style, format Pin copy, and voilà, you're a Pin creating machine!
Pinterest TEMPLATES FOR FOOD BLOGGERS
These templates are perfectly designed for food bloggers! Just swap in pictures of your recipe or cooking process and fonts and brand colors.
Could also work with those who do cake or cookie decorating (or any other yummy dessert), campfire or camping recipes, grilling and much more.
** 15 templates per pack
pinterest TEMPLATES FOR Coaches and Entrepreneurs
These templates work great for those who are in the B2B space (business to business).
Marketing for this type of business can be a little bit trickier to sort out, as it's different than a traditional product seller or blogger.
These are perfectly designed for those who are trying to attract clients, online coaches, virtual assistants, fitness coaches, podcasters, and more.
** 15 templates per pack
pinterest TEMPLATES FOR Lifestyle Bloggers
These templates are great for those who consider themselves lifestyle bloggers, which can really include so much.
Home decor, travel, DIY, party planning, gardening, crafts, parenting and so much more.
If you have been blogging since the early days, you might talk about a range of topics. These templates would be perfect for you!
** 15 templates per pack
pinterest TEMPLATES FOR Product Sellers
One of the questions we get asked over and over here at Simple Pin is some version of "what do I pin if I sell products?".
These templates are great for those who sell on Etsy or Shopify and also work well for those who sell digital products like printables, e-books, planners and more.
ANY product will work here — physical or digital, large or small.
** 15 templates per pack
pinterest TEMPLATES FOR Teachers Pay Teachers
Creating pins in the TpT space can look really different than your "traditional" blogger or product seller.
These templates were specifically designed around what's working well in the TpT space. Just quickly swap out your brand colors, fonts and images and you're ready to go!
** 15 templates per pack
Take a peek at what creators and business owners
are saying about our templates!
"Making pins is my favorite thing EVER…but I get too artsie-fartsie with them and waste way too much time. So I downloaded the new templates and BOOM…pins were flying out of me!! Thank you, thank you, thank you!!!"
Leah – Down Leah's Lane
"I created a bunch, all from the same template. The longest part of making the pins is finding the image I want on my hard drive. At first I kept fiddling because I couldn't accept they were done so fast. Ha! I'm over that now"
Bobette – My Online Wedding Help
"I'm a bit of a template collector because I have three blogs and need lots of pins! These stood out as being different from others I have – very simple design and very classy as well as very easy to use!"
Angela – Skylark Virtual Services
---
WHAT CAN YOU EXPECT FROM THESE CUSTOM PIN TEMPLATES?
---
TRUSTED BY SMART & INFLUENTIAL BRANDS

We can also create pin images for you!
If you made it to the bottom of this page and are feeling overwhelmed or maybe designing pins is something you've thought about outsourcing, we've got you covered!
Check out our pin design packages here and let us take this off your plate.