The January Pinterest marketing challenge is over...
but Don't miss our next free challenge!
Let's do this! The next challenge runs from April 19 - April 23, 2021. Sign up today to grab your spot on the wait list! >>>>
That growing your business with Pinterest
is easier than you think?
Do you constantly feel frustrated from following all the Pinterest "rules" and seeing few results? And feel overwhelmed with which "rules" to even follow?
We hear you! 
You've got the business and all the drive, but you have NO IDEA how to do this Pinterest marketing stuff the right way. Or what the "right way" even looks like these days.
You've tried pinning on your own, following others' strategies and literally nothing. No saves, no clicks....just crickets.
It feels like everywhere you turn, you're hearing others talk about how much Pinterest has helped them grow their business, and yet, even with ALL the effort you're putting into Pinterest, you just can't seem to move the needle.
>>> let's change that this year.
What if you could FINALLY hop off the Pinterest hamster wheel and instead, drive on a one-way road to growth by following some SIMPLE yet effective Pinterest strategies from real Pinterest experts?
During the Free 5-Day Pinterest Growth Challenge, the Simple Pin Media team (yep, real Pinterest experts here!) can help you begin to master Pinterest so you can use it to actually GROW your business in 2021.
Here's what we will cover each day:
>>> Day 1: Creating the best Pinterest boards for your brand and the Pinterest algorithm. 
>>> Day 2: Finding the right keywords so you can get more readers and sales from the RIGHT audience.
>>> Day 3: Craft the best Pinterest images that help you reach your target audience.
>>> Day 4: Numbers and data are important, but which ones? We will drill down to find the numbers that are most important. 
>>> Day 5: Pull it all together to create a Pinterest marketing plan to get clicks that turn into sales and subscribers. 
Ready to start making Pinterest work FOR you?!
You're invited...to grow your business with Pinterest!
Here are the details on the 5-Day Pinterest Challenge...or, what we'd like to think of as a business growth party!
HOSTED BY: Kate Ahl & the Simple Pin Media Team (experts who live & breathe all things Pinterest!)
WHEN: The challenge will run daily from April 19 - April 23, 2021. 
WHAT: You'll receive an email first thing each morning of the challenge that details that day's challenge focus. Each day's task shouldn't take you more than about 15 minutes to complete.
WHERE: After you complete the task, you'll post in our Pinterest Strategy Facebook Group for feedback and support. (We're going to take good care of you & your biz!)
Each day, I'll show up live to walk you through the day's task and offer support & answers to any questions you may have. 
And, what party would be complete without PRIZES?!
Each day that you participate in the Facebook group, you'll have the opportunity to win some fabulous prizes - all geared to really help you win with Pinterest this year!
>>> Let's do this! <<<
You know, you really don't have to keep tirelessly chasing so many Pinterest growth strategies. (And, having little to show for it.)
You just need a trusted Pinterest marketing guide who can show you exactly what to do.
And who can't wait to help you explode your business with Pinterest!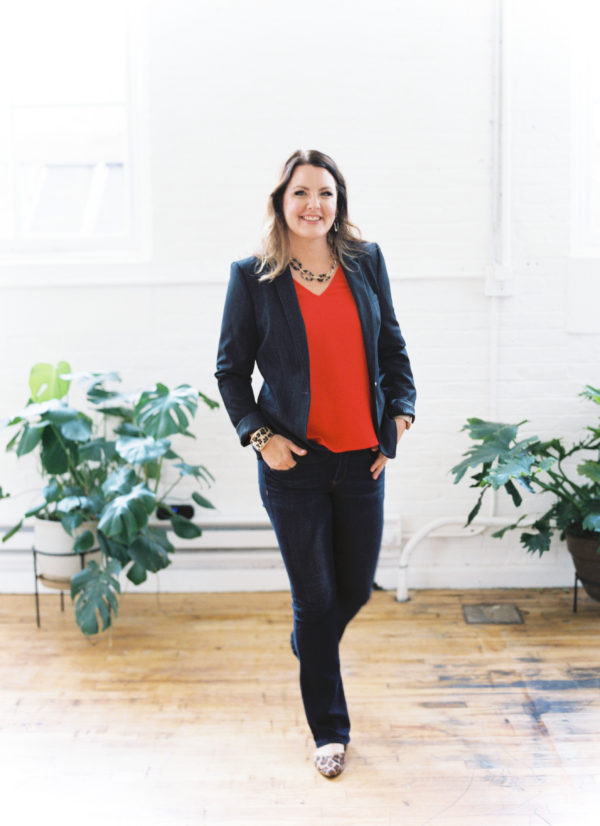 Hey there, I'm Kate.
My mission is to make it easy for you to find and convert your perfect person on Pinterest, without feeling overwhelmed.
I have one goal: to teach you how to do Pinterest marketing the right way so you can grow your business and reach your goals.
Believe me, I know what it's like to try to develop and maintain a Pinterest strategy that works for you and your business.
Here's what I've learned: You're far more likely to succeed in your business when you have a guide.
Friend, YOU have the answers to your audience's problems, and I want to help you grow your business, increase your revenue, and expand your influence with Pinterest.
Teaching you how to rock Pinterest is my superpower. You need it broken down into simple, actionable steps that help you achieve success in your business using Pinterest.
Growing your Pinterest marketing doesn't have to be difficult, it just has to be strategic.
My team and I look forward to helping you reach your business goals with Pinterest this year!
Grab your spot on the wait list now and don't miss our FREE 5-day Pinterest marketing hcallenge!
5 smart steps to mastering Pinterest in 2021
without running on a hamster wheel!
If you want to get off the hamster wheel....
... you need to make some smart investments. Don't waste another year wishing you had a Pinterest marketing plan that actually WORKS.
In just 5 days, you could set the foundation for a successful year on Pinterest.
And you don't have to figure it out on your own!
Finally...
Learn how to create beautiful images that reflect your brand and what you're offering...yep, attention-grabbing graphics that people can't HELP but click!
Easily find keywords so you're targeting the RIGHT audience on Pinterest!
Learn how to create an efficient and effective pinning schedule...that doesn't require HOURS of your time every week!
Get started on the RIGHT path to Pinterest growth with the Free 5-Day Challenge!
We're ready to help you get started!
Grab your spot on the wait list now