Updated March 30, 2019
Pinterest's Rich Pins: Everything You Need to Know
Perhaps the one feature I get asked about more than any other is Pinterest's Rich Pins. It's a question I'm always glad to hear since installing Rich Pins is one of the best things you can do to improve the success of your campaigns on the platform. I have Kristie Hill here to explain the benefits of Rich Pins and how to set them up.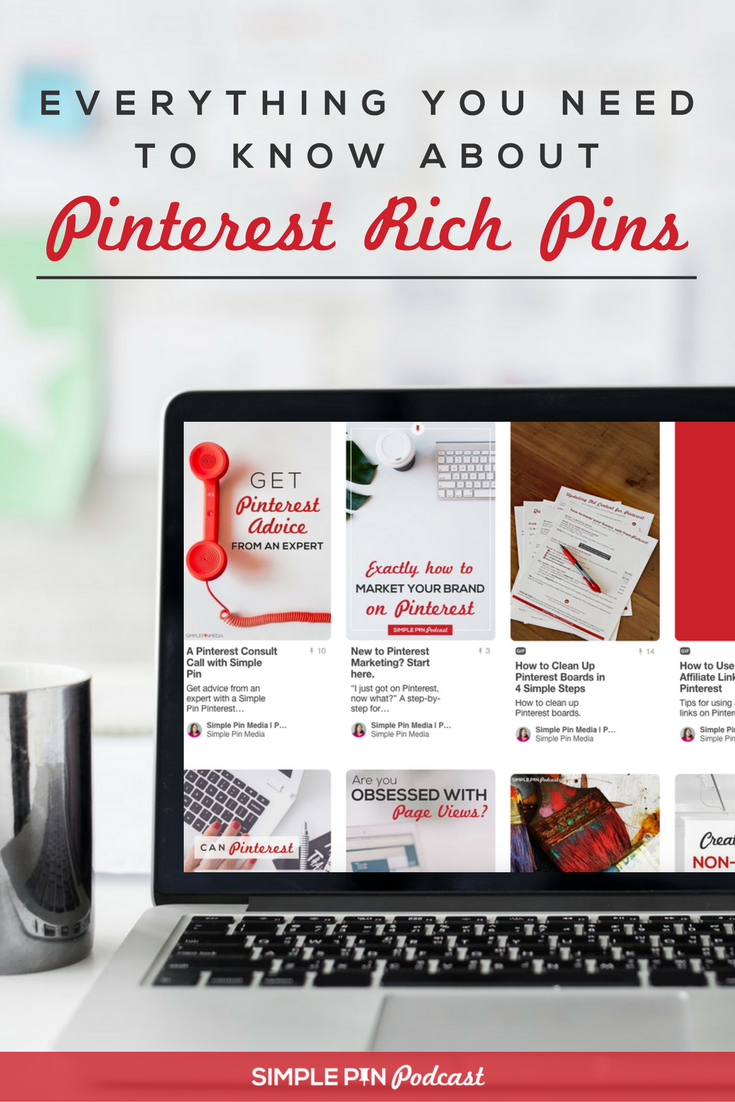 This post contains affiliate links, which means if you make a purchase through these links, I may receive a small commission at no extra cost to you. Click here to read my full disclosure policy.
What are Rich Pins?
Rich Pins are Pins saved on Pinterest that have extra information attached to the pin. Here's the official definition from Pinterest,
Rich Pins show metadata right on the Pin itself, giving Pinners a richer experience and increasing engagement. Information in a Rich Pin is independent of the Pin description, ensuring that important information is always tied to the Pin. There are 4 types of Rich Pins: app, article, product and recipe Pins."
Rich Pins are the premium version of Pins, making them more actionable and helpful for Pinners.
Learn More –>> How to strategically pin on Pinterest.
What do Rich Pins look like?
Article Rich Pins show the title, the meta description (snippet), publish date, and sometimes the author's name. In the feed, the article Pin shows the title of the post. You will see the additional information when you click on the Pin. Check out my Pinterest board for more Article Rich Pins.
Recipe Rich Pins include ingredients, cook time, and serving info. The information displayed will vary depending on the recipe plugin you use. In the example below, the image on the left is what the recipe looks like in the feed and the image on the right is how it displays once you click on the image. As you can see, it provides pinners with information that will help them decide if they want to come to your site: Vegetarian, ingredients, how long it will take to make, and how many people it serves. See more Recipe Rich Pins here.
Product Pins include real-time pricing, availability, and where to buy. If you have a verified Pinterest account all types of Rich Pins add your branding to the Pins: Your icon and the name used on Pinterest. You can find more Product Rich Pins here.
The Benefits of Rich Pins
Rich pins help improve your potential reader's experience with your pins. They tell pinners what your article, recipe, or product is about. Think of rich Pins as ad copy for your post. The primary goal of rich Pins should be to make pinners care about your page and earn their click.
If you have a recipe pin that lists ingredients, all the ingredients, time spent on the recipe and the other recipe data will be searchable. This is great for the 5 pm cook who is looking for a quick and easy recipe. Or the gourmet cooks interested in fancy ingredients.
I know there is some debate in the food blogger world about turning Rich Pins off to increase page views. I'm not a fan of this for a few reasons. One, if I'm a pinner deciding on your recipe I want to be able to see the ingredients before I click over. Once I know I have the ingredients on hand, I will click over to your site and follow the directions.
If a recipe pin does not have the ingredients, I have to click, scroll and discover I do not have the ingredients needed. I click away fast, increasing your bounce rate for Google and showing Pinterest that you don't have what the pinner needed.
I know people want to increase their page views for ad income but I would think critically about how the bounce rate and time on site will affect your overall ranking on both Google and Pinterest. The page off may not be worth it in the long run. I discuss this topic of page views vs. income and then dive deep into KPI's on this podcast. Final thought, think long and hard about why you want to turn Recipe Rich Pins off and for the love of all things Pinterest, DO NOT do it because you read about someone else's success in a Facebook group. Know your metrics and know what will help YOU the results you need to help build a sustainable business.
I digress…
For product pins, this allows you to list the price, description of the product and more attributes your future buyer needs to know before purchase. Another great benefit is if you update the price on the listing, all pins will update as well.
Unlike comment descriptions, the information added to Rich Pins stays from Pin to Repin. If you update the post title or meta description, ALL the Pins will update too.
Rich Pins are beneficial for bloggers and site owners in any industry. Let's get them for your site!
Learn more –>> How to Keyword on Pinterest
How to get Rich Pins
You can get Rich Pins set up for your site in three steps:
Add metadata to your site
Validate and apply for Rich Pins
Create a compelling title and description for every post.
If you're a technical type you can find more details on the Pinterest developer site.
 Step One: Add metadata to your site
The easiest way to set up Rich Pins for WordPress is to use the Yoast SEO plugin. Yoast is also great for Facebook and SEO. If you don't already have the plugin, head to Your WordPress dashboard and install the Yoast SEO plugin. Configure the plugin and make sure to include links to all of your social media platforms when prompted. Once you've configured your Yoast SEO plugin you will be able to navigate to SEO > Social > Facebook tab. Click enabled, if it isn't already, under Add Open Graph metadata.
That's it! Your blog posts are ready to display as Article Rich Pins.
Enable Recipe Pins: If you want recipe Rich Pins, you will need to use a recipe card plugin. Recipe Rich Pins are a great way to provide Pinterest and your readers with information about your recipe. The ingredients listed in the recipe are also keywords that will increase your visibility when people search for them.
Recipe Rich Pins are easy to set up when you use a recipe plugin for WordPress. Quality recipe plugins are hard to come by. Several of the recipe plugins that used to be popular are no longer being updated or providing the right information for Rich Pins or Google.
The following plugins are still being updated and have the proper markups for Pinterest Rich Pins: Tasty Recipes and Cookbook. Once you've installed one of these plugins and use it to create a recipe, pins from the post will information from recipe card on the pin. (Recipe Rich Pins do not include the directions, those are left off so that people still have to come to your site.)
Learn more –>> How Tasty Pins and Google work best together. 
Enabling Rich Pins on other platforms: If you use Squarespace, your site is already set up with the proper metadata for Rich Pins. If you use Blogger you can read this document to set up your Rich Pins.
If you're on SquareSpace, you can listen to this podcast on how to optimize your SquareSpace site for Pinterest. 
Step Two: Validate and apply for Rich Pins
Now that your site has all the necessary information for Rich Pins, you can apply to activate them. Head to the Rich Pin Validator.
Add the URL to one of your blog posts in the validator box and hit validate. Once you get the green check and 'Your Pin's have been validated!' message you can click apply.
Sometimes your blog will be approved right away, other times Pinterest will provide this message, "We'll review it and email you with any questions or next steps." Either way, it can take a couple of days for your pins to start showing up as Rich Pins. Be patient and if you don't see them show up email the help desk.
Step Three: Create a compelling title and description for every post.
Now that you have Rich Pins installed, images saved from your site will show additional information on the pins. Enabling Rich Pins is only half the equation though – you need to utilize them! The description that is displayed in your article Rich Pins is controlled by the copy you write for your meta description. If you leave the meta description blank, your Pins will show the first couple of lines of the article.
Take advantage of the description space by adding a compelling description to every post. A simple formula I use is: natural use of keywords + why they should click (CTA's) NOTE: if you use a social sharing plugin, the social media description may be displayed instead of the meta description (snippet).
For Recipe Rich pins, make sure to add helpful information to your recipe cards that you think pinners will be searching for. Most recipe plugins have a section to include a short description of the recipe. Remember what I said above: think of the title and the description of your post (Rich Pins) as ad copy. The primary goal of rich pins should be to make pinners care about your page and earn their click. The title and description should entice your readers to click through or save your Pin.
Good luck with your rich pins!
Want more resources to help with your Pinterest marketing?