Updated December 1st, 2017
Pinterest's Rich Pins: Everything You Need to Know
Perhaps the one feature I get asked about more than any other is Pinterest's Rich Pins. It's a question I'm always glad to hear since installing Rich Pins is one of the best things you can do to improve the success of your campaigns on the platform. I have Kristie Hill here to explain the benefits of Rich Pins and how to set them up.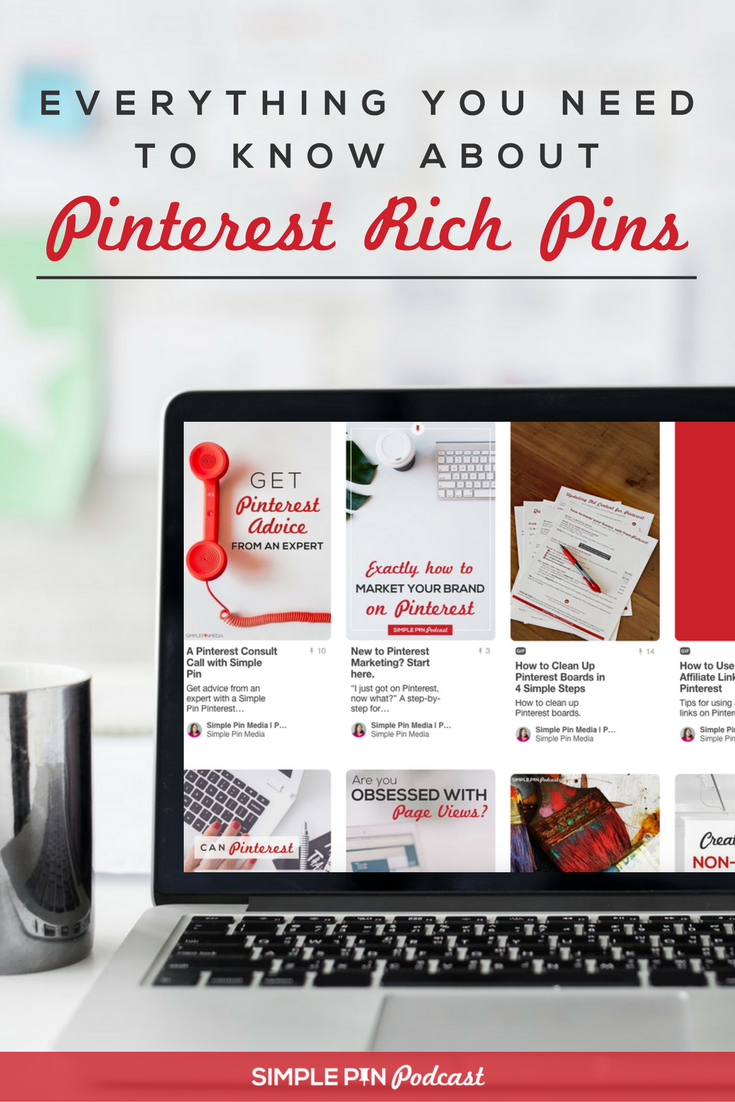 This post contains affiliate links, which means if you make a purchase through these links, I may receive a small commission at no extra cost to you. Click here to read my full disclosure policy.
What are Rich Pins?
Rich Pins are Pins saved on Pinterest that have extra information attached to the pin. Here's the official definition from Pinterest,
Rich Pins show metadata right on the Pin itself, giving Pinners a richer experience and increasing engagement. Information in a Rich Pin is independent of the Pin description, ensuring that important information is always tied to the Pin. There are 4 types of Rich Pins: app, article, product and recipe Pins."
Rich Pins are the premium version of Pins, making them more actionable and helpful for Pinners.
What do Rich Pins look like?
Article Rich Pins show the title, the meta description (snippet), publish date, and sometimes the author's name. In the feed, the article Pin shows the title of the post. You will see the additional information when you click on the Pin.
Recipe Rich Pins include ingredients, cook time, and serving info. The information displayed will vary depending on the recipe plugin you use. In the example below, the image on the left is what the recipe looks like in the feed and the image on the right is how it displays once you click on the image.
As you can see, it provides pinners with information that will help them decide if they want to come to your site: Vegetarian, ingredients, how long it will take to make, and how many people it serves.
Product Pins include real-time pricing, availability, and where to buy.
If you have a verified Pinterest account all types of Rich Pins add your branding to the Pins: Your icon and the name used on Pinterest.
Join 14k+ Other Savvy Creators
Get SPM's Weekly Pinterest Insider Tips!
You'll also get our Ultimate Pinterest Planner helping you market on Pinterest all year long
We'll never spam, pinky promise!
The Benefits of Rich Pins
Rich pins help improve your potential reader's experience with your pins. They tell pinners what your article, recipe, or product is about. Think of rich Pins as ad copy for your post.
The primary goal of rich Pins should be to make pinners care about your page and earn their click.
Here are some things Pinterest has said:
"Use rich pins wherever possible so your brand and other useful details stay on the Pin as it gets saved." Best Practice Guide, The art of a Pin – 2016
"One of the best ways to make Pins helpful and actionable is by using Rich Pins, since they automatically include extra information right on the Pin itself." Pinterest 101 for Pinsiders, Enhance your Content – 2017
Unlike comment descriptions, the information added to Rich Pins stays from Pin to Repin. If you update the post title or meta description, ALL the Pins will update too.
Pinterest also has some jaw dropping stats about Rich Pins:
"About.com got a 40% increase in referral traffic from Pinterest within the first week of setting up Rich Pins. Since then, traffic from Pinterest has continued to grow by 70% each year." Pinterest 101 for Pinsiders, Enhance your Content – 2017
"One of MADE.COM's goals on Pinterest is to help people learn more about their pieces, which is why they started using Rich Pins. Rich Pins include extra information like product name, price and availability. These little details make a huge difference, since they're often key to encouraging people to take action with the Pin.
By amping up their Pinterest presence with Rich Pins and a diverse set of content, MADE.COM has seen dramatic results in just a few months:
36% increase in traffic to their site
51% increase in conversions
106% increase in transactions
173% increase in revenue"
Kate and I both agree that Rich Pins are beneficial for bloggers and site owners in any industry. Let's get them for your blog!
How to get Rich Pins
You can get Rich Pins set up for your site in three steps:
Add metadata to your site
Validate and apply for Rich Pins
Create a compelling title and description for every post.
 Step One: Add metadata to your site
The easiest way to set up Rich Pins for WordPress is to use the Yoast SEO plugin. Yoast is also great for Facebook and SEO.
If you don't already have the plugin, head to Your WordPress dashboard and install the Yoast SEO plugin. Configure the plugin and make sure to include links to all of your social media platforms when prompted.
Once you've configured your Yoast SEO plugin you will be able to navigate to SEO > Social > Facebook tab. Click enabled, if it isn't already, under Add Open Graph metadata.
That's it! Your blog posts are ready to display as article Rich Pins.
Enable Recipe Pins: If you want recipe Rich Pins, you will need to use a recipe card plugin. Recipe Rich Pins are a great way to provide Pinterest and your readers with information about your recipe. The ingredients listed in the recipe are also keywords that will increase your visibility when people search for them.
Recipe Rich Pins are easy to set up when you use a recipe plugin for WordPress. Quality recipe plugins are hard to come by. Several of the recipe plugins that used to be popular are no longer being updated or providing the right information for Rich Pins or Google.
The following plugins are still being updated and have the proper markups for Pinterest Rich Pins: Tasty Recipes and Cookbook
Once you've installed one of these plugins and use it to create a recipe, pins from the post will information from recipe card on the pin. (Recipe Rich Pins do not include the directions, those are left off so that people still have to come to your site.)
Enabling Rich Pins on other platforms: If you use Squarespace, your site is already set up with the proper meta data for Rich Pins. If you use Blogger you can read this document to set up your Rich Pins.
Step Two: Validate and apply for Rich Pins
Now that your site has all the necessary information for Rich Pins, you can apply to activate them. Head to the Rich Pin Validator.
Add the URL to one of your blog posts in the validator box and hit validate.
Once you get the green check and 'Your Pin's have been validated!' message you can click apply.
Sometimes your blog will be approved right away, other times Pinterest will provide this message, "We'll review it and email you with any questions or next steps."
Either way, it can take a couple of days for your pins to start showing up as Rich Pins.
Step Three: Create a compelling title and description for every post.
Now that you have Rich Pins installed, images saved from your site will show additional information on the pins. Enabling Rich Pins is only half the equation though – you need to utilize them!
The description that is displayed in your article Rich Pins is controlled by the copy you write for your meta description. If you leave the meta description blank, your Pins will show the first couple of lines of the article. Take advantage of the description space by adding a compelling description to every post.
A simple formula I use is: natural use of keywords + why they should click (CTA's)
NOTE: if you Social Warfare, the social media description may be displayed instead of the meta description (snippet).
For Recipe Rich pins, make sure to add helpful information to your recipe cards that you think pinners will be searching for. Most recipe plugins have a section to include a short description of the recipe.
Remember what I said above: think of the title and the description of your post (Rich Pins) as ad copy. The primary goal of rich pins should be to make pinners care about your page and earn their click. The title and description should entice your readers to click through or save your Pin. Good luck with your rich pins!
Want to use Pinterest to grow your blog? Check out the Pinning Perfect course. It's the only Pinterest course I endorse!
Questions? Comments? Tips? Join the fun below.
FYI — I have a private Facebook group where I love to chat all about Pinterest. Join me.
Take Your Pinterest Marketing to the Next Level!
What's included?
• Monthly action tips
• What's trending
• Exclusive pinning checklist
• Plus, so much more!