Updated April 2, 2019
Keywording on Pinterest
I received an email this week about how important it is to keyword on Pinterest. The previous week I received one asking about the best places to keyword. And then someone posted an article in my Facebook group about their new strategy to keyword their pins. It sparked a great discussion but a lot more questions.
So I figured it was time to do a podcast and post about keywording on Pinterest and the what, why, where and how. Alright, let's dive in.
What is keywording?
Keywording is a process of adding specific words from your niche allowing Pinterest users to find the content they are searching for.
Learn more about SEO and Pinterest here.
It's a way to help organize content. For example, if I'm a user searching for DIY Floating Shelves, then Pinterest will pull all pins with those words in the pin description. They may pull other relevant content with DIY, Shelves, Floating, etc. Their platform is still evolving so you may get a few items that are not directly related but it's going to get as close as it can.
Moral of the story? Be specific and strategic with keywords. 
What Keywording is NOT!
It's not a way to game the system. It's a way to ensure the right people find your content. And don't sweep wide here. I've heard people say you should maximize for all areas — quotes, food, DIY, Style, Fashion, etc. However, if none of those areas have your target person, do not keyword for them. Be specific and strategic with keywords.
Why Keyword?
Let's say you have a very niche business and you're looking to target a specific person. You want to make sure a mom, early 20s, 3 kids and a job finds your content about being a stay at home mom. You would add specific keywords to help her find the articles you know will give her the tools to be effective in her daily life.
For me, I want to specifically target people interested in Pinterest marketing and management. Truth be told, I need to get better at utilizing those keywords in my pin descriptions. That will be my action item.
Learn keyword and image secrets from Pinterest analytics. 
How to Keyword
Use simple words that fit into your niche. I used to say break it into three parts and add personality, but now that Pinterest has dialed back what you see in descriptions, it's best to be brief and straight to the point.
Here's an example:
How to clean up Pinterest boards in five easy steps. #pinteresttips #simplepinpodcast #socialmedia #pinterestmarketing
"WHAT??? You just used hashtags there!"
Yep, I did. In August of 2017 Pinterest said, hashtags are a go on the platform! You can listen to the video update and hashtag podcast to learn more.
Also, listen to this podcast on the best way to use hashtags in your pin descriptions. 
Remember the end user is mainly looking at the image. If the image gives them all the information they need, they will look there first. If the image is blank they will look to the description. They don't need fancy.
Learn how to create images that capture the Pinner's attention.
Where to Keyword
Okay, so the very first place we always optimize images is on your site. When you write a post, speaking specifically to those using WordPress, and you add an image, you will want to put your keywords into the alt-text. This can be edited at any time. So if you have a certain alt-text in an older image that you want to update, it is perfectly fine to update it now.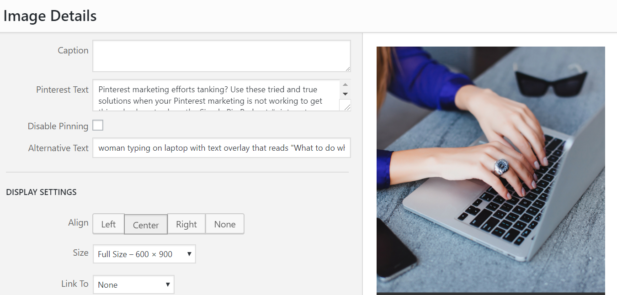 Note: There are two ways to do this now using the Tasty Pins plugin. If you want to understand more about the Alt Text and Pinterest text listen to this episode about SEO and Pinterest. It will make WAY more sense after listening. 
So why do we want to keyword this first? Because when someone pins your pin, this specific alt text will be pulled up as the description that 'travels' with the pin.
Example, you've just created this amazing post about DIY Floating Shelves and spent hours on it and you're so excited to have it rock Pinterest. You release your post and people start pinning it but the alt text says "image o8315". Whoops! And if you don't have Rich Pins, then people really can't tell what it is beside the image. And Pinterest can't read the keywords in the pin description because they were in the alt text. See where I'm going with this?
If you don't know where to start in updating older posts with the alt-text, I suggest going to pinterest.com/source/yourdomain.com and looking at what people are pinning from your site. You will quickly see which posts need to be updated.
Pin Descriptions
If you've already filled in your alt text, you won't have to do anything when you pin a pin. However, if you want to upload a pin directly, you will need to add a pin description. Here's how you do that.
I have a planner landing page for my 2018 Pinterest planner. I have 3 different images that go to that landing page. I would like to pin all of them to my simple pin board. I upload the first image and then I'll need to add a description to the pin. Once I do that I can add the pin and then edit it to add the URL to my landing page.
This is one of the only times you'll need to add a pin description. Or you can edit them on existing pins. Note, when you edit it will not automatically update existing pins. It's a one at a time kind of thing.
Profile
Your profile is a great place to add keywords and it's one that is often overlooked. There are two places you can add them.
First, your business name.
I have Simple Pin Media with the keyword marketing next to my name.
Next is your profile description. Use this section to let them know how you're going to serve them with the type of content or niche you are. You can use the same keywords you used in your business name.
Board Titles
Use simple words but consider who your target person is. You are under no obligation here to sweep wide unless of course, your audience is wide (like in the case of a lifestyle blogger). But if you're more targeted to the DIY home project crowd, be specific in the type of titles you use for your boards. Maybe every board title has DIY in it. Get creative but be consistent.
Key takeaway: the goal in keywording is to target your audience.
Board Descriptions
This is a place where you will tell the user what you will pin on the board. Be smart about writing complete sentences. You can add several sentences here, but I wouldn't spend too much time doing that. 2-3 is perfectly acceptable. 
Know Your Audience
The goal in keywording is to target your audience. To attract the person you want to see your content. If you're stuck on which keywords to use, start with a simple list. Or start with who that person is and make a quick story about them and their lifestyle. Then come up with a list of boards to create or update. You can find tips for updating your boards and a quick cheat sheet in my How to Clean up Pinterest boards post.
Once you get your target audience clicking on your pins and over to your website or product page, make sure you are using something like the Milotree app to convert them into Pinterest followers. If they like your content enough to click over from Pinterest, make sure you have a way of helping them stick around!
Questions? Comments? Tips? Join the fun below.
FYI — I have a private Facebook group where I love to chat all about Pinterest. Join me.
How to Keyword on Pinterest!
Download your FREE checklist to get started keywording on Pinterest.