UPDATE: We also recorded a podcast all about the visual search tool! Listen in here.
We also recorded a great YouTube video on visual search and Pinterest lens. Watch here!
There's a little tiny button in the bottom right corner of every pin that is called Pinterest Lens. You can't get rid of the Pinterest Visual Search tool.
And believe me, you don't want to!
It's a super valuable search tool that's built into the Pinterest platform. Why? Because it's a really helpful tool for pinners to find more of the content they are looking for. If you sell products on Pinterest, this little hover over tool is a dream.

How Does the pinterest visual search tool work?
If you sell a product, you'll want to create two different types of images to help the Visual Search Tool serve up the right content to your future customer:
Closeup product image
Lifestyle product image
Closeup Product Image — this is an image that just shows the close up of your product. People can hover over the product in the image and it will pull up more of that particular product. I do this all the time when a pin I love leads to a 404 page or out of stock page. Note, if you have a product that is no longer in stock REDIRECT to a category page (with more like products) or update the listing to reflect that it's out of stock with more suggestions. If you don't do this you're missing the sale.
Lifestyle Product Image – this type of image allows your customer to make a connection with your product and mentally picture it in their environment. If I am buying tile, I don't want to just see the tile up close, I want to see it in a bathroom or kitchen.
Learn more about how to create pins that capture the pinner's attention.
Let's see the Visual Search Tool (aka Pinterest Lens) in action.
First, click on the button in the bottom right corner of the pin. This will be located on all pins in the same place, both on desktop and mobile.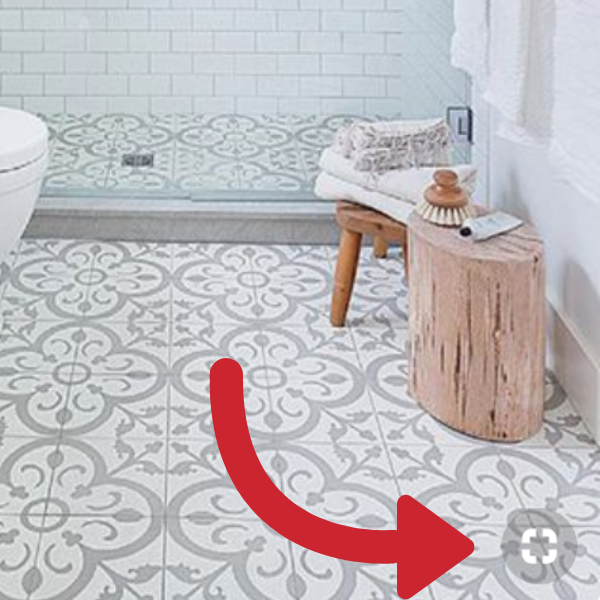 After you've clicked on the button, Pinterest will populate a small box that can be dragged all over the image in the direction that you choose. At that point, it will pull up all related images, as well as keywords they think this pin relates too.
This is GOLD for you as a marketer to see which keywords Pinterest relates your content with.
As you can see from the image above, Pinterest is reading that it's a bathroom, tiles and ceramic tile. It's doing a great job of connecting me with more like images that I'm interested in.
Learn more about how to keyword on Pinterest.
What about mobile? – Using your phone, you can snap a picture of an item you're interested in and use that image to search products on Pinterest!
All you have to do is open your Pinterest app on your phone and tap 🔎. Click on the camera icon in the search bar. Focus on the specific item by pinching and zooming in. Tap the button to capture that object and discover what Pinterest has to offer!
pinterest Visual Search Tool Tips
You'll want to avoid putting your logo in the bottom right corner of the image. The Visual Search Tool will cover up your logo decreasing your opportunity for brand awareness. Make sure it's in the middle of the image or bottom left.
Here's a great example of logo placement in the bottom middle that will also help with brand awareness:
You can find more pin examples in our Pin Portfolio created by our Pinterest Image department.
Try testing out some of your current pins to see how Pinterest is categorizing your pins by using the tool on your own pins. Hover over different areas of your pin, products, etc. Is Pinterest matching up the right keywords and images with your content?
Here's another cool tactic for those who are food bloggers. Use the same dishes in your photos to ensure all the related content being pulled up is your content. Someone suggested this at the creator's conference and it was such a genius idea. She knew that her top recipe had a blue bowl that was half-seen in the photo. On her new recipe, she used the same bowl and placement to see if Pinterest would pull her new recipes into related pins or Visual Search. And it worked!
Always things to test on Pinterest.
For even more practical tips on maximizing visual search to make sure your images are seen by the right people, check out this fantastic podcast (recorded October 2019).
What're your thoughts on the Visual Search Tool? Do you use it? Comment below and let me know how you're experimenting or what you're going to test.
Helpful Pinterest Resources
This post contains affiliate links, which means if you make a purchase through these links, I may receive a small commission at no extra cost to you. Click here to read my full disclosure policy.