Before we dive into this monster episode on Pinterest marketing best practices for 2019, I just want to say that this is current as of April 2019. Things can change fast on Pinterest so if you're listening to or reading this in 2020, check the site for updated 2020 Pinterest best practices.
With that out of the way, we want you to know that over the last few months, we've been working hard to create resources that serve you where you're at in your Pinterest marketing.
Those who are just starting out on Pinterest, let us help you get up and running smart, fast and with a solid foundation. This four-week newsletter series will walk you through all the foundational elements you need to build the right marketing plan for you. It will help answer your most basic Pinterest questions and ensure you're getting the right information.
If you're already up and running with Pinterest marketing and have a solid foundation, that's great. Maybe you're at the place where you're asking questions like:
How do I know this is working? How can I up my game? What can I do to be more efficient?
We've created a special Pinterest marketing series for you as well.
With that, let's dive into today's podcast all about 2019 Pinterest marketing best practices.
2019 Pinterest Marketing Best Practices
In the last three to four years, the teaching of Pinterest marketing has exploded. It seems like everyone is writing a post about their Pinterest strategy and how it will skyrocket you to the top. In fact, within 30 seconds of scrolling through my home feed on Pinterest, I'm hit with 15 different ways to get page views, followers, views, impressions, secrets, etc.
It's overwhelming to me and I run a Pinterest management agency!
I want to remind those of you who have listened to the podcast or read the blog for a long time that I will always bring you the best options to build your business. After that, it's up to you to act on the information I present.
It's always been my belief (which is backed up by working with over 600 Pinterest accounts), that each Pinterest account responds uniquely to the type of pins you're sharing. Therefore, you need to focus on your customer before you focus on a tactic.
It's about being strategic with time, metrics and goals, not tactics. You can spend hours reading about tactics and then implement those tactics, just to find out they don't work.
That said, I'm going to walk through the current 2019 Pinterest marketing best practices, based on Pinterest resources, along with a healthy dose of what we see work with our own clients. Gear up to take notes, make a plan and keep your eye on the prize – strategies to build your business that work.
Your Pinterest Marketing Focus
At Social Media Marketing World 2019, I sat in on Jasmine Star's session about Instagram. It was fabulous. Her approach to teaching Instagram is exactly how I teach Pinterest.
She said this about followers on Instagram:
I know people with 1000 followers who are making a 6 figure income and those who have 1 million followers who aren't making even close to that. — Jasmine Star
The point — > Focus on the wrong thing and you'll make nothing. Focus on the right thing (your customer) and you'll make a healthy living. It's not about vanity metrics.
This applies to Pinterest. Focus on the right thing — your customer, reader and/or client. And keep in mind that when it comes to Pinterest marketing best practices, Pinterest serves one person — the pinner.
Pinterest's Current Focus
Speaking of focus, I believe that this year, Pinterest is mainly focused on three things:
IPO
creators
video content.
IPO – Pinterest plans on going public in the spring (If I knew the date I would be guilty on insider trading so don't ask me for it). This means that all of their efforts are being funneled towards making sure they are profitable for shareholders. However, they still serve the pinner and are focused on giving them the best experience possible.
Creators – Pinterest does NOT exist to serve creators. But I do know they want to ensure a good working relationship with us, since we create the content that pinners seek out on their platform. Have they always been awesome at working with creators? No. But I do believe that they are trying (remember how they hosted the In the Making Pinterest Conference last summer?). My commitment is that whenever I get the chance to meet with Pinterest I will represent creators the best way I can and speak on behalf of them as an advocate.
Video– I touched on the emphasis on video content briefly in previous podcast episodes. I believe Pinterest will make great strides in 2019 with video and it will become less and less of a  "speed bump" for pinners. In fact, I'm really excited to see how it's going to serve creators in bringing traffic to their site.
Here are a few helpful links to make sure your video is on point with what Pinterest wants:
How Pinterest Works
Let's step back just a bit for a reminder of how Pinterest works. How do they decide which pins to show which pinner? We learned more about this at the creator's conference in June of 2018.
We're never going to have full access to what the algorithm does at all times (no social media platform allow marketers that level of access). Instead, we take queues from what they have told us and figure out a way to market to our ideal person within those parameters.
There are four main factors which are known to influence whether or not your pins show up on Pinterest:
Domain Quality — Make sure you have a business account, verify your site, and get Rich Pins.
Pin Quality – Ensure your pins are engaging.
Pinner Quality – Pinner quality is largely based on how well your content is received. You're considered a high quality pinner if your content gets saves, comments and clicks, and your audience is also sharing for you from your site or sharing your pins. If people find it valuable, it's quality. It's the "why didn't I think of that" moment on Pinterest.
Relevance – Keyword targeting.
Pinner Habits
We have a few contacts at Pinterest that we speak with often. One specifically works with agencies and wanted to give us the best tools for helping our clients understand Pinterest.
She recently walked me through a slide share presentation that demonstrated where Pinterest influences the buying decisions of pinners. The picture below best illustrates the timeline, but we will walk through the steps they take.
Let's say someone is planning a hiking trip in three months. They hop onto Pinterest to search the following — Hiking gear, hiking tips, best hiking trails in x location, the best way to condition for hiking, etc. They are in the planning stages. They save all their favorite pins from these searches to their hiking boards.
Then three weeks before the trip, they hop onto Google or Amazon to buy the hiking gear they found on Pinterest. They may actually buy from their Pinterest boards as well. The key takeaway is that in this example, Pinterest is informing the pinner's buying decisions.
Once they embark on the actual hiking trip, they post content to Instagram to communicate to the world,  "look at me on my hiking trip!"
This is how pinners behave on the Pinterest platform. The platform assists them in the planning and dreaming phase.
Interesting note about pinner habits — people tend to visit Pinterest once per day or around three to four times per week. Power users may visit the platform more often (as much as three to five times per day). Most of the time, it's a platform that people will visit when they have a specific project in mind. This is not the case with either Instagram or Facebook.
Where Do Your Pins Get Seen?
Your content will be served up for pinners in the following places:
Smart Feed – When you pop on to Pinterest, you're greeted with main home feed or "smart feed". This is made up of your interests, people you follow, Promoted Pins as well as suggested interests based on the boards you have on your profile. This is where the pinner spends time browsing.
Your content will show up here if people follow you, they have pinned something from one of your boards or you align with an interest they have.
Search Feed –  This is when people put keywords into the search bar at the top of Pinterest. If you have keywords in your pin description, this is where Pinterest will pull up your pins. It's important that you have a complete pin description with one to two full sentences peppered with keywords.
It's really important  to note that 97% of the 1,000 most popular searches are non-branded (meaning people generally start with basic searches for products like "shoes" or "couch"). This means that brands of all sizes have an opportunity to reach people who are in a shopping mindset.
Moral of the story? Keywording is the "key" to being found on Pinterest. If you're thinking that people aren't going to find you compared to the big brand, you're wrong. Keywords make Pinterest go round!
Follower Tab – this is a tab made up of people you follow. You'll see their most recent pins here. If you engage with them often (i.e., click, save or comment), Pinterest view see that as an indicator that you like their content and you want to see more of it. This may spill over to your Smart Feed.
Related: Do Followers Matter on Pinterest?
Hashtag Feed — Pinterest also includes a chronological hashtag feed serving up the specific hashtag a pinner searches. I rarely use this and haven't found many users that do. We also don't have any specific data to show from Pinterest as to how they use it.
If you add 1-2 hashtags at the end of your pin description, those hashtags will populate pins in this feed. Keep your hashtags relevant. If you're talking about cats use the hashtag #cats don't use #dogs. Learn more about how to use hashtags on Pinterest in this episode.
Visual Search — Pinterest's also has an awesome visual search tool. If you're selling a product this is especially helpful for your content in two ways:
1. They use the little hover over button on their phone or desktop OR
2. they use Lens on their phone to populate more of the product they are looking for.
The button looks like this on desktop, it's in the bottom right as well on your phone: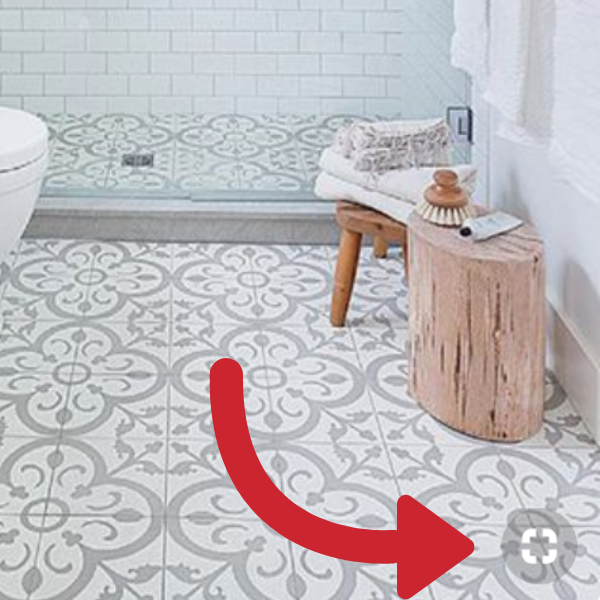 I like to use the visual search function when a pin of something I'm interested in ends up leading to a dead link (you know, that "404 error"). I can look around at other Pinterest results to see if I can find another pin that has an actual working link.
Is Your Content Right for Pinterest?
Not all content is right for Pinterest. For example, if you have time-sensitive content or a flash sale, marketing it on the Pinterest platform is not going to work .
Make sure the content or products you're sharing are evergreen OR can be easily updated on the site so that pinners can find what they are looking for. If you're looking for more information regarding content, check out Pinterest Content Tips.
How to Rock Your Pinterest Marketing: Four Things You MUST Do in 2019
Once you've confirmed that your content is appropriate for the Pinterest platform, it's time to move onto marketing that content using current best practices.
First, have a clearly branded profile. What this means is that your profile makes sense for your brand. You have it labeled and organized well, based on your content. If I check out your profile right now, I should know right away exactly what you're selling or talking about.
Second, create great pins/visuals. We're going to talk about this in just a moment. I really want to spend some time on creating great pins and how important it is to your success on Pinterest.
Third, use the right keywords to help your ideal pinner find your content. If someone is searching camel colored leather bag, use those in your pin description. Get great tips for how to keyword on Pinterest in this episode.
Fourth, be consistent in daily pinning. I recommend pinning at least five of your pins per day, but there is no hard and fast rule. If anyone tells you they have found the secret to how many times per day you need to pin, run! It depends on how much content you have, how many images you have for that content and the person you're targeting (check out this great tool to help you pin consistently on Pinterest).
Creating Great Pins
Pins are your opportunity to make a first impression. And you know the saying: you never get a second chance to make a first impression.
Now I'm not a pressure kind of gal, but I do want you to feel a little heat when it comes to creating great pins. It's really important, it's advertising for your company. If you're not skilled in image creation, hire it out. I did! Tina, our Creative Director is amazing. Inquire about a consult call or to our creative team create images for you.
For those of you who won't be outsourcing image creation, here's the best path to creating amazing pinnable images on your own.
When you create new Pins, start from your audience's perspective. Why do they use Pinterest? What kinds of ideas are they looking for? How can you help them make decisions? What aspects of your image will pull them in?
Your pins should help people understand why your product or idea is the right fit for them. Pick images that show context and bring your topic to life. Clearly show how someone might use your product, execute your project, etc.
Pick an eye-catching image. Use high-quality, vertical images that will stand out in people's feeds. We recommend a 2:3 aspect ratio (ex: 1000 x 1500 pixels). Other ratios may cause your pin to truncate, or may negatively impact pin performance in search.
An example of an image with a poor dimension would be 400×2000. That's too long. Stick with 2:3. Canva has 735×1102 — that's great! 600×900, that's great too. Are you sensing a theme here — 2:3 people! Stick with this ratio and you'll be good.
This podcast is a great resource for walking you through how to create Pinterest images that capture the pinner's attention. And you can also learn how to A/B test your Pinterest images to hone in on the perfect formula for your audience.
Jennifer Priest shared a great tactic in her talk at 2019 Social Media Marketing World. She walked us through how to tell if Pinterest is properly matching up your images with other related images on Pinterest.
You want Pinterest to group your pin with like content.
Upload your pin to a secret board and then scroll down below the pin to related pins. If your image is on target, you'll see similar results below it. Alternatively, if your search yields all kinds of unrelated results, you may need to use a different image.
Now that you've selected your image, add text overlay with an easy to read font, preferably one that is also used your site. I use the same font for everything we put out on all social channels.
Text overlay is the copy that goes on your Pin image. It makes your Pins stand out, adds context and enhances your message. Keep text concise so it's easy for people to read on their phones.
Put your logo on every pin you make, but keep it subtle. Avoid the lower right corner, since that spot gets covered up by the visual search tool.
Now that you have an awesome pin, you need to make sure that it actually leads the reader to awesome content. Make sure to create a landing page that feels like a natural progression from the pin to your site. For example, pins that feature a product should link to a page where people can buy that product. If your pin features a DIY project, it should link to the article on your site with full instructions on how to complete that project.
People don't like to experience the bait and switch effect. If they do, they will bounce off of your site fast, never to return.
Using Keywords Properly
We touched on this before, but let me reiterate that keywords are the (not so secret) sauce that make Pinterest a search and discovery platform. People search for what they are looking for just like they do on Google — with keywords.
For those wondering, there is no keyword research tool for Pinterest. If anyone tries to sell you one, grin and walk away. The best keyword research tool is within Pinterest itself. If you type in something and predictive search feature comes up blank, you know that it's not a popular search term on Pinterest.
Use the guided search bar as well for keyword ideas to put into your pin description.
Use full sentences in your pin description, and make sure to include a call to action. You should work relevant keywords into your descriptions, but avoid keyword stuffing. It's unnecessary and makes your pins less useful for the people reading them.
I love this example of patterned tiles. Pinterest is even matching me up with them after I've searched for cement tiles:
Add a few relevant hashtags to help people find your content. On Pinterest, hashtags function as search terms, and people use them to find trending topics. Unlike on other platforms, Pinterest hashtags aren't used for jokes, memes or commentary. Not on Pinterest. Keep it pure and relevant.
People often ask if they should go back and add hashtags to older pins. You can, but it won't help your content show up at the top of hashtag feeds. Newer pins with that hashtag will appear first.
Pinning Strategically
Remember, we're talking strategy, not tactics in this episode.
If I was to give you a "10 pins per day 80% your own content and 20% other people's content" recommendation, that would be a tactic. Instead, I want you to think about how to serve the pinner with your content.
Pinterest wants fresh content, which is defined by pinning from your site (not a repin) using a new image. So if you want to share the same content twice, three times or even more, I highly suggest you up your image game and create at least three to five images for one post.
When it comes to holidays or seasonal events, people use Pinterest to plan long before they turn to other platforms. Remember to factor this timing into your Pinterest content strategy. We recommend that you start pinning seasonal content about 30-45 days in advance. Activity will keep picking up as you get closer to the event.
A great place to bookmark for reference is this Pinterest insights page as it relates to seasonality.
You can also access the 2019 insights PDF as well. This is great for keyword research as well.

How to Stay Up to Date on Pinterest Changes
Pinterest marketing best practices are ever-changing. But there are several value-packed resources you can turn to in order to stay up to date on this topic.
Sign up for emails from Pinterest. Many people have said they never get them, but make sure you're signed up under the right email and it's not going to spam.
If you're into the engineering stuff, you can read their blog here.
Check out the Pinterest Best Practices Guide. Revisit this often as it updates whenever they make changes. They've also put a Best Practices Guide that's specific to pin creation.
Follow Pinterest on their business Facebook page and then bookmark all the links I've talked about here.
Read my weekly Simple Pin newsletter. I bring you up to date info each Wednesday with some actionable tips as well. Sign up here and get a free planner as well.
Join the Simple Pin Facebook group — I know some of you are moving away from Facebook, but the group is very helpful and VERY active!
Read the Tailwind Blog. Tailwind talks with Pinterest often to ensure they are sharing the right information. They do answer a lot of questions for Pinterest marketers to ensure they are up to date on best practices.
Finally, subscribe to the Simple Pin podcast. Each week I'm committed to delivering simple, actionable Pinterest tips that will help you market on Pinterest without feeling overwhelmed. We're on Spotify, iTunes, Google Play, Overcast and more. Please leave a review, we would love to hear how we can make the Simple Pin podcast even better!
Make sure you bookmark this page so you can easily reference all of these great resources for Pinterest marketing best practices!